Melissa Wu (born 3 May 1992) is an Australian Diver who competed at the 2006 Melbourne Commonwealth Games at just 13 years of age! Since then she has competed at 3 Olympics and has no plans to stop. This interview goes through the highs of her long career and the devastating lows in between. I am sure you can all learn something from Melissa's passion and drive. Enjoy!
What are the best and worst aspects of being a professional athlete?
The best parts are having the opportunity to represent Australia, traveling the world doing what I love and fostering friendships with other divers around the world. The worst parts of being an athlete are definitely the lows you face in your career and dealing with disappointment after competition. But the feeling of being able to bounce back from disappointment or a setback makes it all worth it.
You began diving in 2003 just after you turned 10. What got you into the sport?
I got into diving because my older sister used to be a swimmer when we were younger and she used to race a lot at Sydney Olympic Park. When I went to watch her I would often see the divers training and it was something always wanted to try. After convincing my parents to let me start, I fell in love with the sport from the first time I tried it.
You seemingly developed very quickly as one of our best divers winning junior and state titles in 2004/2005, then the Australian Open Championships in 2006. Did it seem like things were happening very fast? When did you realise you had huge talent in the sport?
Things did happen fast when I was younger and I progressed very quickly from the age of 11 once I had made it into the QAS program in Brisbane. My coach was one of the best in the world and I was lucky to have the opportunity to train under him. There was a lot of pressure to perform when I trained in Brisbane though, so at that age, not performing wasn't an option for me. I was so focused on achieving the goals that my coach had set for me that I never focused on whether I had talent or not, I just did everything I could to be the best athlete I could.
As a result of your win at the nationals, you were selected for the 2006 Melbourne Commonwealth Games where you won a silver. Did this seem like a surreal experience at such a young age?
Commonwealth Games in Melbourne was my first international competition and was a very surreal experience. I was only 13 and had a lot of media interest at that time too. It was an amazing experience and I enjoyed every minute of it. I was still very focused on my diving throughout it all though and experiencing that Commonwealth Games made me hungry to compete at the Olympics and other major international competitions.
Melissa at just 13 during the Commonwealth Games
The next year you won silver at the World Championships in Melbourne also for the Synchronised 10-metre platform with Briony Cole. This was all before your 16th birthday. Did you believe or expect you could get a result like this?
I've never focused too much on results or the colours of medals. From a young age I've always wanted to be successful but measured that against my own ability and potential. My goal has always been to compete to the best of my ability and perform the best dives possible. At that young age I didn't think about what medals I could get, but knew that if I dived well and focused on that, that I would be probably up in the medal mix.
At the Beijing 2008 Olympics you and Briony also won silver there. How was your 1st Olympic experience? How does it feel knowing you were and always will be an Olympic medallist?
Competing at the Olympics was always my dream, so to be able to achieve that in Beijing was everything to me. And winning a silver medal topped the whole experience. I've been to two Olympics since then and there's nothing that compares to being able to represent Australia at the Olympic Games. My Olympic experiences would definitely be some of my most treasured memories from my career so far.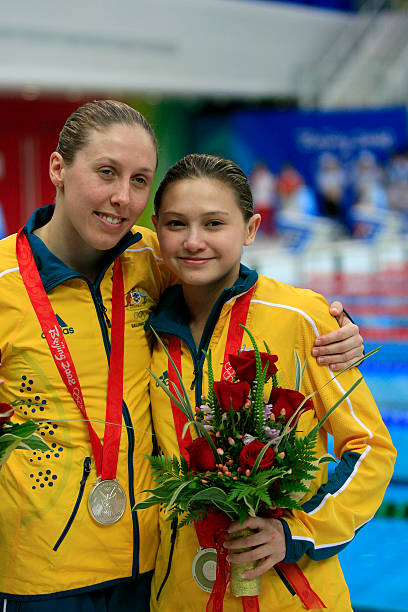 Melissa and Briony with their Olympic Silver medal from Beijing 2008!
You lost to yet another dominant Chinese duo Wang Xin and Chen Ruolin. What do you believe makes them so dominant in diving?
I would say firstly we WON a silver medal. We were beaten by the Chinese, we didn't lose to the Chinese. They are dominant in diving because they all have flawless technique and they also have a lot of depth in the sport in China. They are taken from their families at a very very young age to train in institutes and if they don't show promise early on, they bring in other more talented kids. So the divers that do make it in the sport and compete for China are the best of the best.
You won gold at the Delhi 2010 Commonwealth games and went to another 2 Olympics. In between however you suffered major setbacks. In 2013 you missed most of the season due to a back injury. How did you deal with this?
I've had multiple injuries throughout my career and nearly all of them are ongoing. These injuries include a disc bulge and stress fractures in my back, a ligament tear in my wrist, disc protrusions in my neck and tendinitis in my knee as well as fat pad impingement and joint pain in the same knee. Even though it's extremely difficult to push through these injuries and all the pain, it's worth it because sport has a shelf life and I won't be able to do it forever. So I'd prefer to stay positive and make the most of the opportunities I have and the time I have in diving.
You also attend uni doing a business degree at Macquarie Uni. How do you find juggling this with diving?
Now I'm studying a Diploma of Nutrition and Dietetics for Personal Trainers at FIA Fitnation. It can be difficult to balance study and travel but fortunately, FIA Fitnation are extremely supportive and make it much easier for me to study while traveling and competing. It's important that I also stay organised and manage my time as best I can.
For someone who has no idea what training goes into becoming an elite diver, what type of activities would you do in a normal training week?
We do half of our training in the pool and we do water sessions every day for about 3 hours a day. We also do a lot of dryland training to learn the correct technique and break dives down. As well as that, we also do strength and conditioning training in the gym, to make sure we have the strength required for diving and to help prevent injuries.
I assume you are planning to keep diving to the next Olympics possibly? What keeps you motivated in a sport were often athletes drop out in their teens?
My plan is to continue on to the Tokyo 2020 Olympic Games. I think it will be one of the best Olympics yet, so that is a huge motivator for me. I always have goals I want to achieve and always want to try and improve on my past performances, so that motivates me to keep training hard and to get the best out of myself.
Finally some advice for aspiring divers?
It's important to enjoy what you do, so my best advice would be to do what you love and try and enjoy training and competition. My other advice would be to always be positive no matter what. Setbacks are inevitable in sport, so the more positive you are, the better you'll bounce back from things and the more you'll be able to get out of yourself.
Lastly some rapid fire questions-
•
Toughest competitor?
The Chinese diving team
•
Favourite memory from diving?
Winning a silver medal at the 2008 Beijing Olympics
•
Toughest training session?
The 3-hour strength sessions I used to do on Saturdays when I was younger
•
Finally, what do you do to relax?
I don't get much time to relax actually because I'm always extremely busy and have a lot of other things I'm doing outside of diving. I use my time away from diving to study and fit in all the other things I'm currently doing.